Ensuring your jump rope is the right length makes all the difference when it comes to performance. A jump rope that's too long can stifle speed, while a jump rope that's too short can be difficult to learn with.
It's important to consider why you're jumping rope and your experience level when determining the right length of your rope.
Sizing a jump rope can also be a hassle. Some ropes require you to cut the cable, sizing it to your specific height and use.
Fortunately, there are some great adjustable jump ropes that don't require you to cut a cable or adjust any screws to size them. I've included some of my favorite adjustable jump ropes below.
For most of you, determining the right size or length of your jump rope is pretty simple. The following jump rope length chart will apply to probably 90% of you.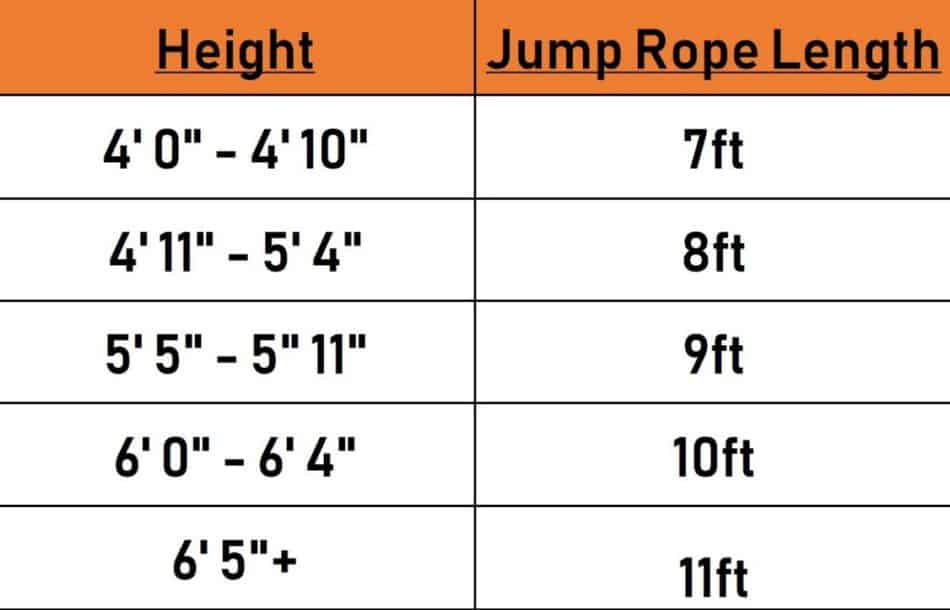 Again, your experience level and reason for jumping rope will help you narrow down the size for a more tailored fit.
Scroll down and you'll find more accurate lengths for different uses and skill levels. I've included lengths for beginners, CrossFit, Boxing (and other martial arts), Double Dutch, Kids, and anyone looking to compete in a jump rope competition.
Before I jump into that, let me give you the quick and dirty explanation on how to size your jump rope.
How to Size a Jump Rope
Now that you know what length your jump rope should be, you'll need to size it accordingly. Unfortunately, some jump ropes make this process a hassle.
The jump rope you're using will determine which sizing method you'll want to use.
Some ropes come with the cables separate from the handles, requiring you to cut the cables to your desired length and fasten the handles. Others make this process much easier with built in functionality enabling you to adjust the length in seconds.
This is actually why I usually stay away from ropes that require you to manually size them. And surprisingly, jump ropes that you need to manually size are usually more expensive than the adjustable ones!
I've included a couple of my favorite jump ropes below, both of which are adjustable.
---
Consider Picking Up a Weighted Jump Rope
If you're looking to burn more calories, experience greater muscle engagement, and get an overall better workout, you might consider picking up a weighted jump rope.
The Muay Thai Jump Rope, from EliteSRS, is the weighted rope I use.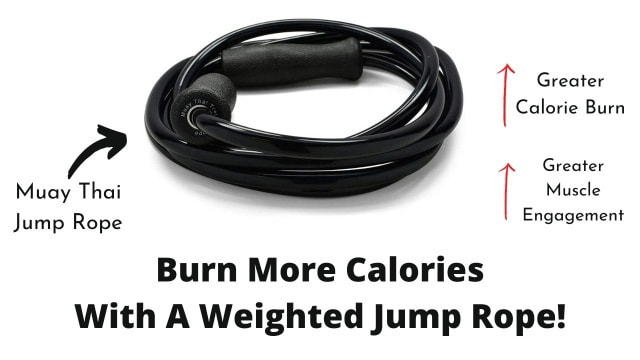 ---
Sizing a Jump Rope with Wire Cutters
I'll start by explaining the process for sizing a jump rope that requires you to cut the cable to its desired length.
These ropes typically use a wire cable, so chances are you'll need a pair of wire cutters to get the job done. Depending on the material and thickness of the cable, you might be able to get away with using scissors.
The rope I'm sizing here is the RPM Session 3.0. This is actually one of my favorite (manually adjusted) jump ropes. If you know you're going to be jumping rope regularly and want something a little higher quality, this is a great choice.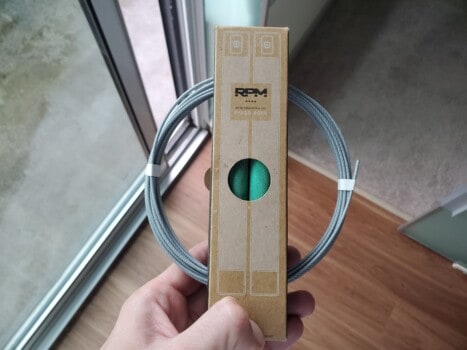 Link to the RPM Session 4 on Amazon (newest model)
1. Open the jump rope (unravel the cable)
First, open the jump rope box and unpack the handles, cable, and accessories. The RPM Session 3.0 comes with a 12ft coated cable, handles, hex wrench, and microfiber bag.
Then, unravel the cable and remove any kinks. Its important you allow the cable to straighten completely before sizing it, to ensure you get the most accurate length.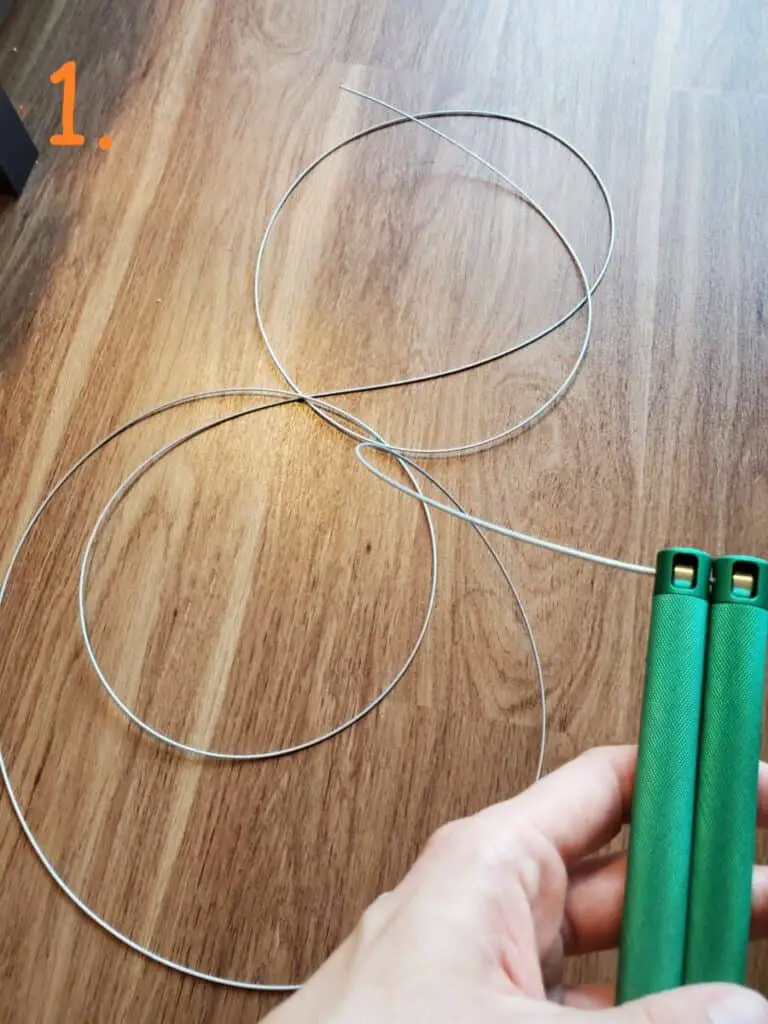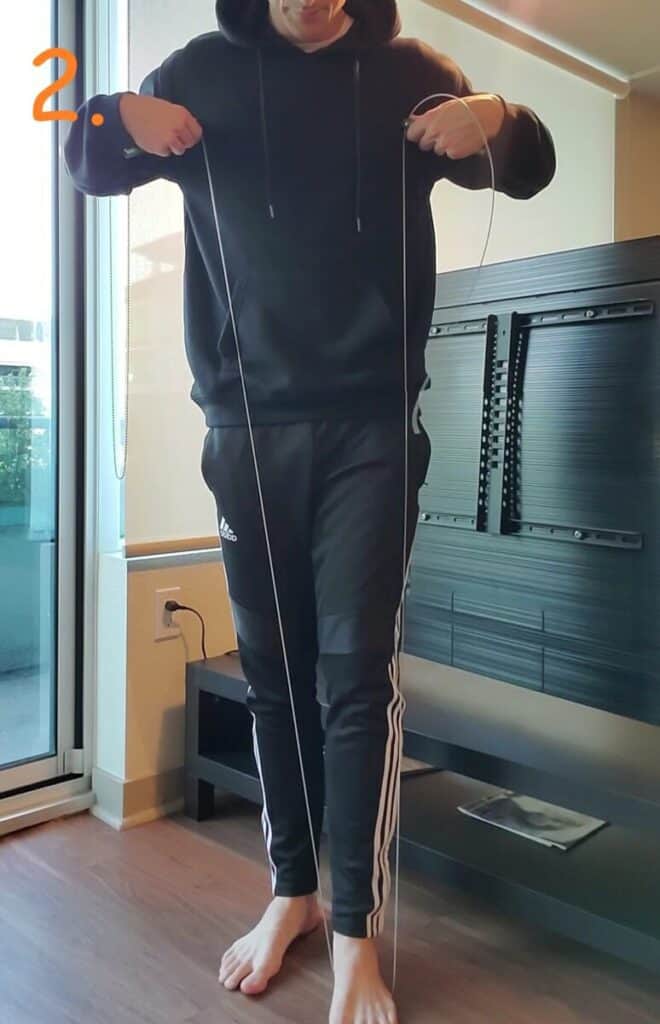 2. Step in the center of the cable (bring the handles to your armpits)
Next, separate the second handle from the first. Roughly estimate the desired length and lightly secure the screw.
With a handle in each hand, step in the center of the cable and bring the handles up to your armpits. The top of the handle, where the cable meets the handle, should reach your armpit. This is the desired length for a beginner or novice jumper.
For more advanced jumpers, bring the handles just below your nipples. This length will allow for faster rotations.
3. Mark desired length (cut with wire cutters)
Once you've identified a good length, mark the cable. Using a pair of wire cutters, cut the cable. It's usually best to leave a couple extra inches in case you need to adjust the length later.
I like to leave the cable a little longer until I start using the jump rope. That way I can get a feel for the length and then shorten it if I need to.
Remember, you can always shorten the cable if needed. Adding length is impossible though, without getting a new cable.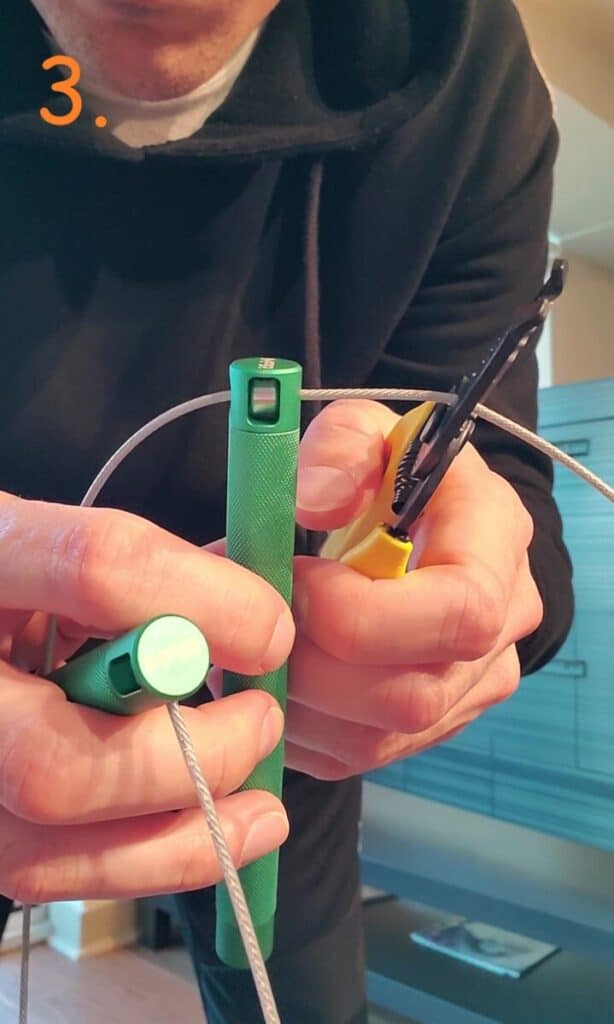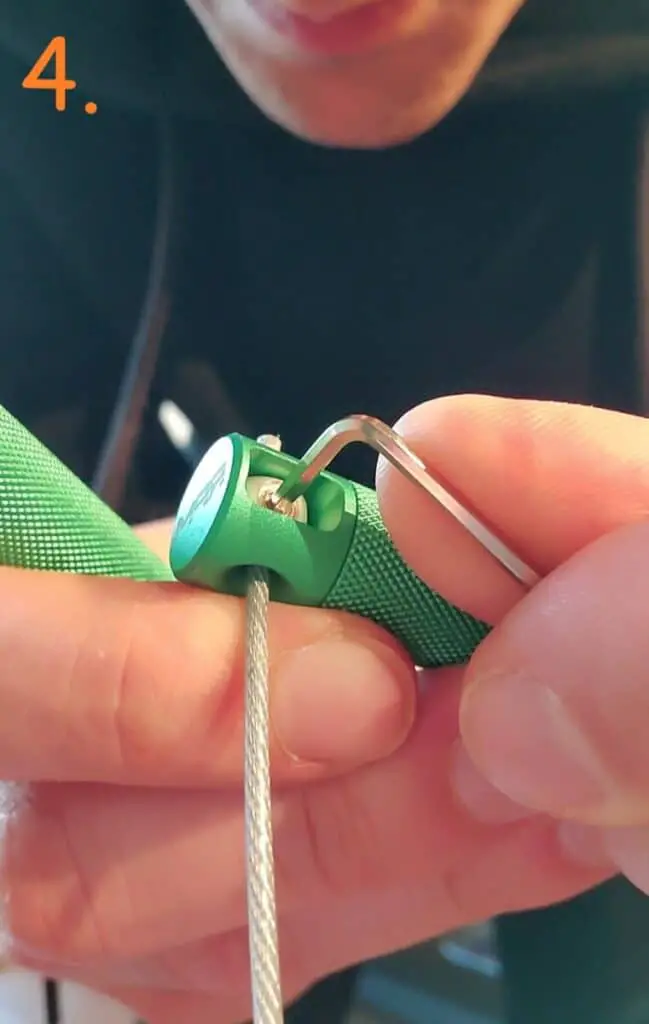 4. Tighten screw (until cable is secure)
Using the hex wrench that came with the jump rope, tighten the screw in the handle of the jump rope. Make sure the screw in both handles is securely fastened before jumping rope.
The RPM Session 3.0 comes with an extra screw if needed. It shouldn't be necessary though.
5. Jump rope!
That's it! You're all set and ready to start jumping rope. If once you start jumping rope you find the cable is too long, shortening the cable is super easy. Just unscrew the handle, loosen the cable, and cut to your desired length.
You got this!
Adjustable Jump Ropes
Personally, I prefer jump ropes that don't require me to cut wires or assemble the damn thing. It's honestly a hassle, and once you decide on the length it's impossible to go back and make it longer.
Adjustable jump ropes also make it easy to share with friends and family who aren't the same height as you.
You might think these ropes are more expensive than your average jump rope. However, the truth is, some of the "fancier", more expensive jump ropes require you to cut the cable and fasten the handles yourself.
Adjustable jump ropes are also going to last longer, because of their versatility. As you become more proficient with your jump rope, you may decide to lengthen the cable for freestyle jump rope or shorten it for speed.
Keep it simple, go with an adjustable rope!
There are some awesome adjustable jump ropes out there too, and they're super affordable. Here are a couple of my favorite.
Honor Athletics' Speed Rope – The "Flash Rope"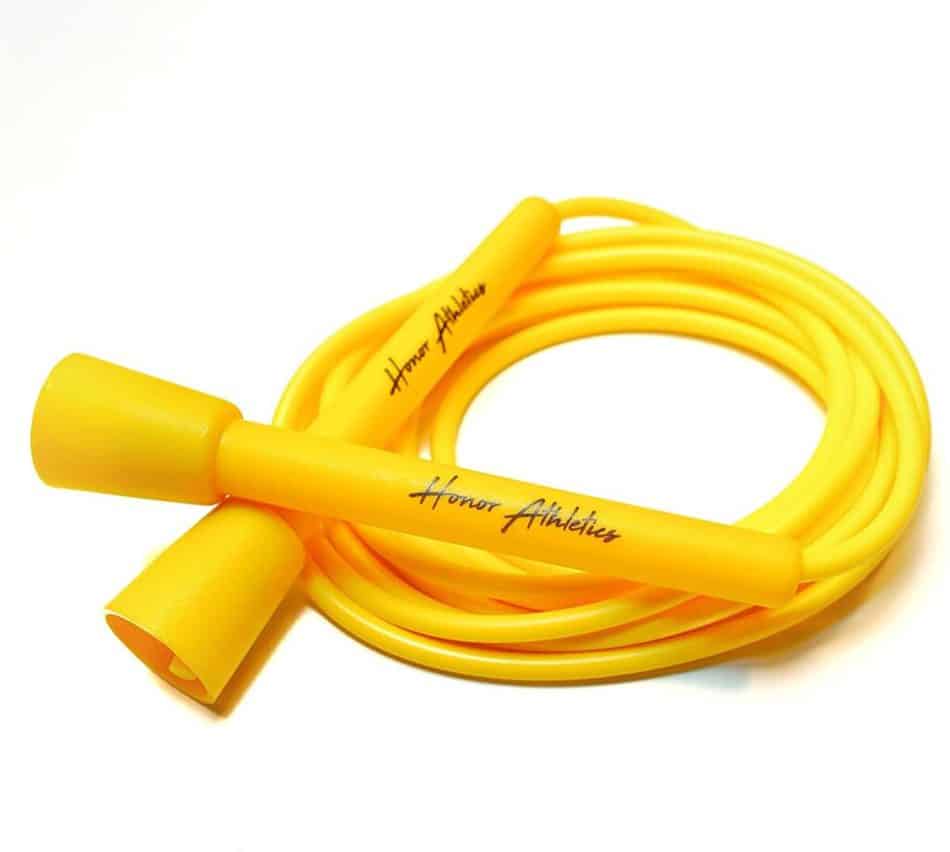 Link to the Flash Rope on Amazon
If you've read some of my other articles you know I talk about this jump rope a lot, and for good reason. This speed rope, or as Honor Athletics refers to it the "Flash Rope", is by far my favorite jump rope.
It has long, lightweight plastic handles that makes it a great rope for freestyle jump rope. This is actually the first jump rope I was able to successfully complete back to back crossovers.
It uses a 5mm thick, vinyl PVC cable which allows for extremely fast rotations. The cable is also super durable, allowing me to jump outside on concrete or pavement.
Additionally, and probably one of my favorite features about this rope, is it's easily adjustable. You can change the length on this rope in literally seconds.
The rope itself is 10ft, which is great size for me (I'm 6'2″).
Epitomie Fitness' Sonic Boom M2 Speed Rope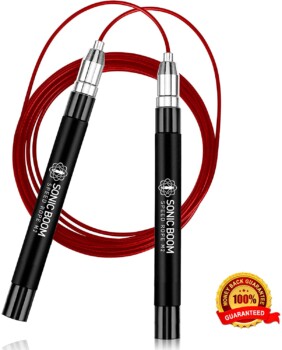 Link to the Sonic Boom M2 on Amazon
Another one of my favorite adjustable jump ropes is the Sonic Boom M2 Speed Rope by Epitomie Fitness.
If you're looking for something a little more flashy, I'd go for this guy.
One of my favorite things about this rope, aside from it's no screw, auto-locking feature, is the silicone grip handles. When you use this jump rope, you can tell it's higher quality than most other jump ropes.
It's also got some slight weight to the handles, to where you can feel the quality stainless steel they are made from.
Additionally, the Sonic Boom has a 360 degree ball bearing feature which makes it arguably one of the smoothest jump ropes available. It's great for CrossFit or Freestyle jump rope.
If nothing else though, this jump rope has a patent-pending auto-locking feature which allows you to adjust the length of the rope without having to cut cables or deal with any screws.
Another adjustable jump rope I highly recommend!
Jump Rope Length for Beginners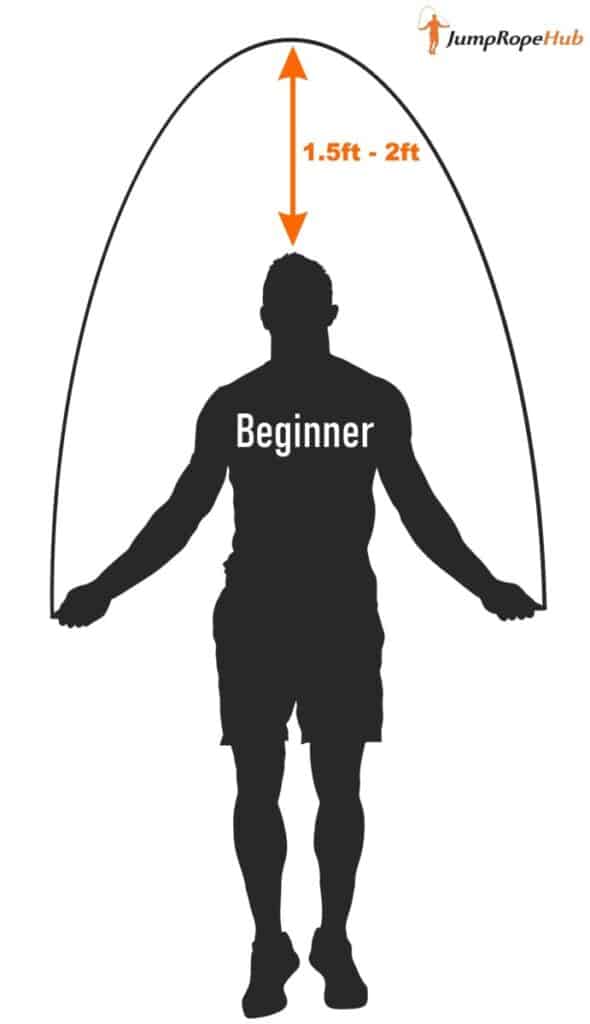 If you're new to jumping rope, you'll definitely want to make sure the length of your jump rope is on point. An accurate length will give you the best chance of being successful.
The biggest reason it's so important when you're just starting out is because the wrong length will make it 10x as difficult. You'll be tripping over the rope constantly and chances are you'll hate it.
(Related: How to Jump Rope: a Beginners Guide)
It's best for beginners to use a rope that's a little longer. A longer rope reduces the speed of each rotation making it easier for inexperienced jumpers to time their jumps and find their rhythm.
For a beginner, there should be roughly 18 – 24 inches (1.5ft – 2ft) between the top of the jumper's head and the rope as it passes over.
Jump Rope Length for CrossFit (High Knees, Double Unders, etc.)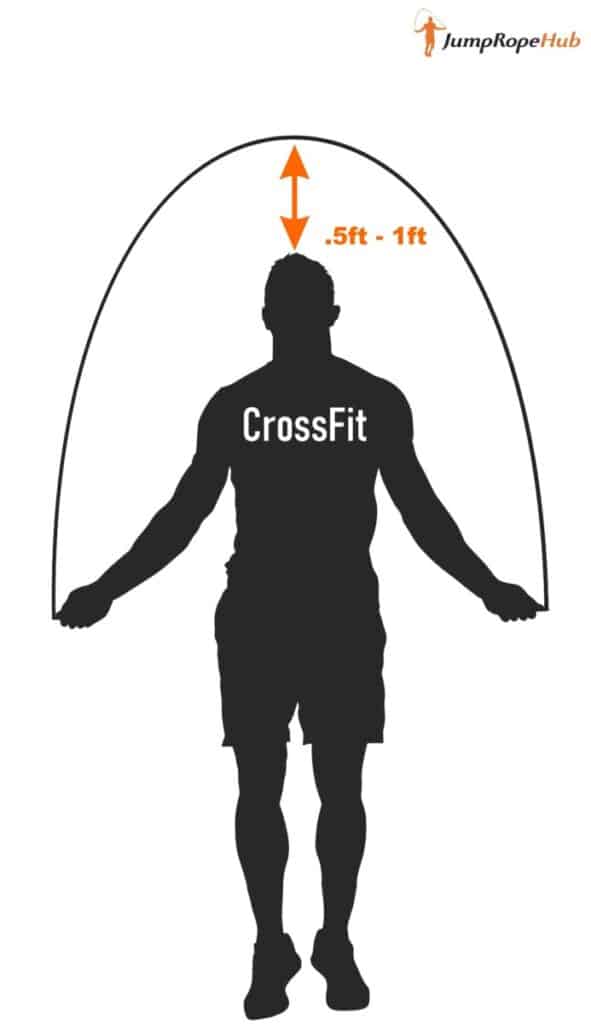 When it comes to CrossFit and other fitness-based jump rope routines, the length of your jump rope should allow for speed and efficiency. You want to spin the rope as fast as possible with the least amount of resistance and effort. This is achieved by using a somewhat shorter rope.
Moves common in CrossFit, like double unders and high-knees, require you to spin the rope fast. To perform these correctly you want minimal extra slack.
You'll likely struggle to get any consistency if you use a rope that's too long.
For CrossFit, there should be around 6 – 12 inches (.5ft – 1ft) between the top of the jumper's head and the rope as it passes over.
Jump Rope Length for Boxing (Freestyle)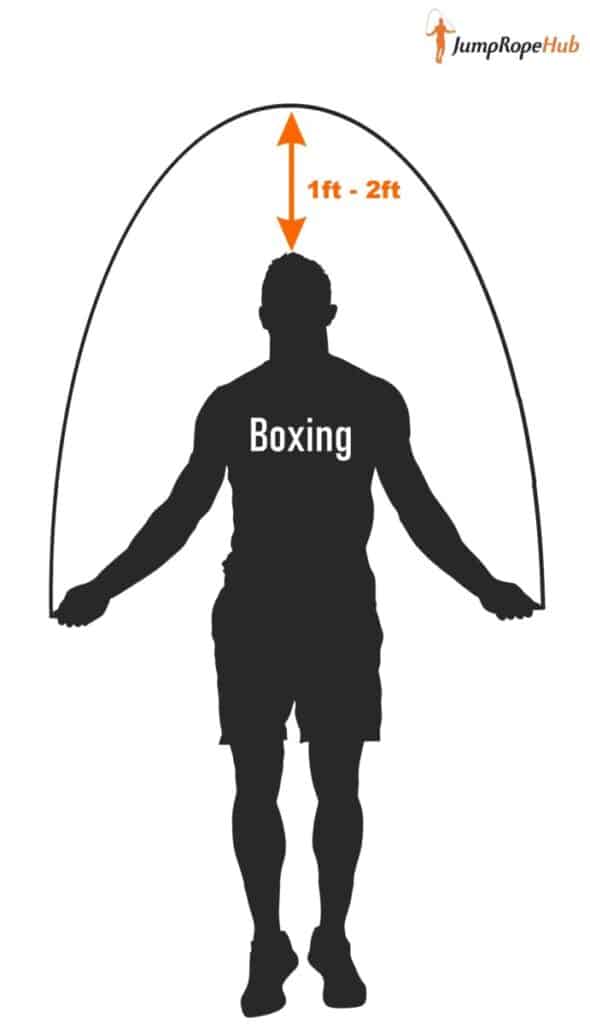 When it comes to Boxing, Freestyle jump rope, or training for other martial arts, it's best to size your jump rope with some extra length.
When training for these disciplines you'll likely be performing things like crossovers, side swipes, etc. With these kind of moves, extra slack is critical for success.
(Related: How to Jump Rope Like a Boxer: Explained by a Boxer)
For Boxing and Freestyle jump rope, it's best to leave roughly 12 – 24 inches (1ft – 2ft) between the top of the jumper's head and the rope as it passes over.
Jump Rope Length for Double Dutch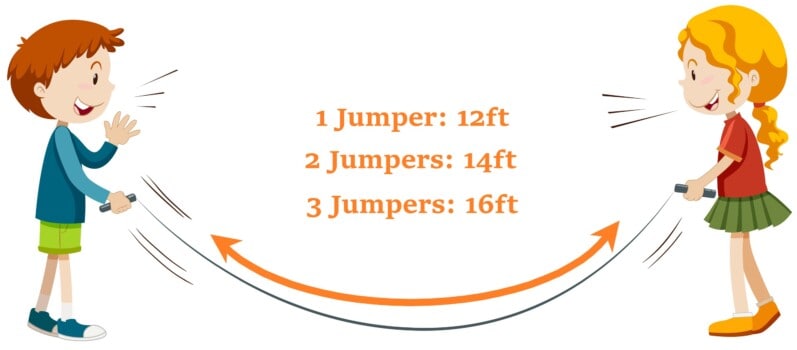 Double Dutch, for those of you unfamiliar, uses two ropes both of equal length. The ropes are spun in opposite directions by two "Turners", one on each side. A third person, the "Jumper", stands between the two Turners and jumps the ropes.
It's a game commonly played by children in elementary school. It also has an entire category dedicated to it in many jump rope tournaments.
(Related: What is Double Dutch)
When it comes to Double Dutch, the length of your jump rope depends on how many people you have jumping the rope.
For the sake of this article we'll assume you have one person jumping the rope, which is pretty standard. It's also important to make sure there is enough distance between the Turners (people spinning the rope).
For Double Dutch, assuming there's only one Jumper, the ideal length of each jump rope is 12ft. When adding a second Jumper, 14ft ropes are best. And for three Jumpers, use 16ft ropes.
Jump Rope Length for Competition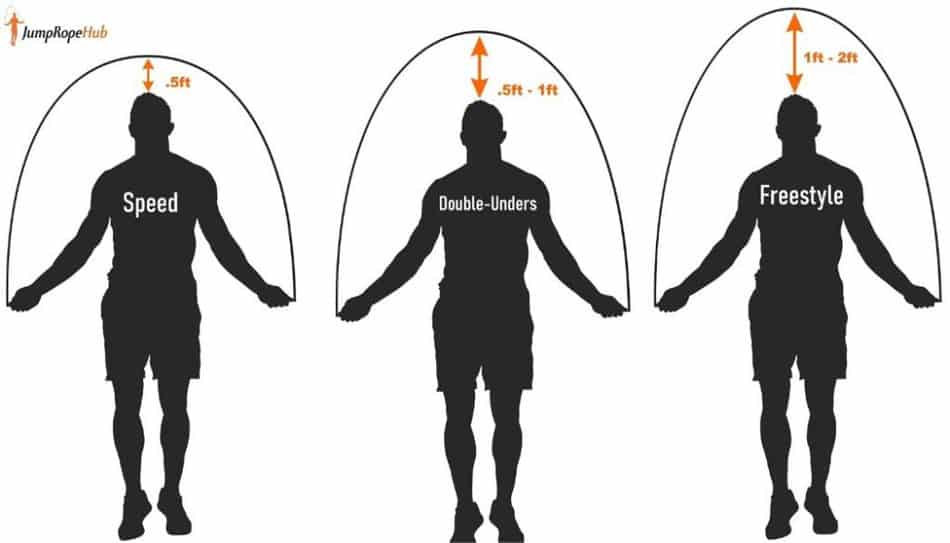 When it comes to competitive jump rope, most tournaments have pretty strict guidelines on how long a jump rope handle can be. The length of the rope, however, is often the competitor's choice.
In most tournaments, like the AAU sponsored jump rope tournament, athletes are able to use a variety of different ropes and lengths.
The category you're competing in and your preference will help you determine the best length of your jump rope. It's always best to check with the tournament handbook though, before deciding on a length.
(Related: Jump Rope: The Sport)
Here are the ideal lengths for the three most common categories:
Speed Competition: Length should be no more than 6" inches (.5 ft) between the top of the jumper's head and the rope as it passes over.
Double Unders Competition: Ideal length is 6 – 12 inches (.5ft – 1ft) between the jumper's head and the rope as it passes over.
Freestyle Competition: The perfect length is anywhere between 12 – 24 inches (1ft – 2ft) between the jumper's head and the rope as it passes over.
Jump Rope Length for Kids
There aren't nearly as many options for kids as there are for adults when it comes to jump ropes. And, more often than not, they come in a fixed size without the ability to alter the length.
So, when you go to pick up a jump rope for your child make sure to pay close attention to the length.
(Related: What is the Best Jump Rope for Kids?)
Yes, this can make it tricky to find a rope that's the perfect length. However, it saves you the hassle of having to size it once you open it up. It's also not as important given your child is likely just now learning how to jump rope.
That said, it's in their best interest to find a rope that's sized as appropriately to their height as possible.
For kids under 4 feet tall, it's best to use a rope that's 6ft in length. For children 4 feet – 4 foot 9 inches, a jump rope that's 7ft should work perfect.
Related Questions
Should my jump rope hit the ground? Yes, a properly sized jump rope will hit the ground when you jump. Depending on the length of the jump rope will determine how much of it hits the ground. The less the rope hits the ground, the faster your rotations will be.
How long should you jump rope for? How long you jump rope for depends on your skill level and physical ability. The longer you jump rope for the better workout you'll get and the more calories you'll burn. If you're new to jumping rope, start slow and build up your endurance.