Long gone are the days of having to workout with a giant Walkman in your pocket, swapping out tapes and CDs, or having to worry about your song skipping mid-set. With the advance of fitness technology, we don't even need cords to listen to our favorite playlists while jumping rope.
That said, there are a variety of headphones to choose from. To help you, here is my list of the 5 best headphones for jumping rope.
1. Best Earbuds for Jumping Rope (Most Affordable)
iTeknic Wireless Earbuds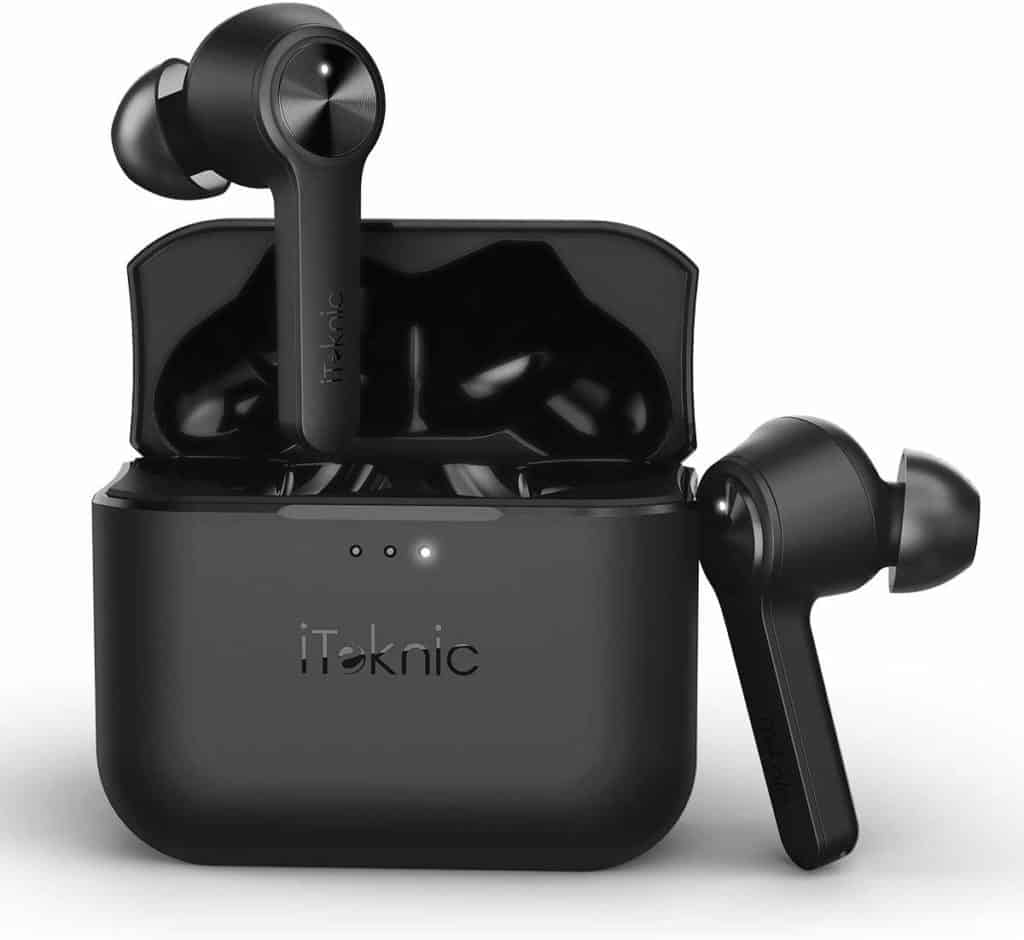 The number one spot on my list is the wireless earbuds by iTeknic. These are the headphones I use, and I love them! Most importantly, when buying a pair of headphones for jumping rope, I'm looking for headphones that aren't going to fall out. Aside from that, I'm looking for headphones that provide good sound, are stylish, and don't cost an arm and a leg.
These earbuds check all the boxes!
Durable: iTeknic used graphene-coated drivers (a highly conductive, flexible, strong material) to make these earbuds. They're solid and should last you a long time!
Good Sound: These earbuds deliver exceptional Hi-Fi Stereo sound providing clarity as well as good bass. And, they come with different ear tip sizes to ensure a snug fit for an immersive listening experience.
Stylish: Modern, sleek design (similar to Apple's EarPods). They're a great look!
Affordable: The Earbuds by iTeknic are super affordable. Can't beat the price for this quality.
2. Best Headphones for Jumping Rope (Most Affordable)
COWIN E7 Pro Wireless Headphones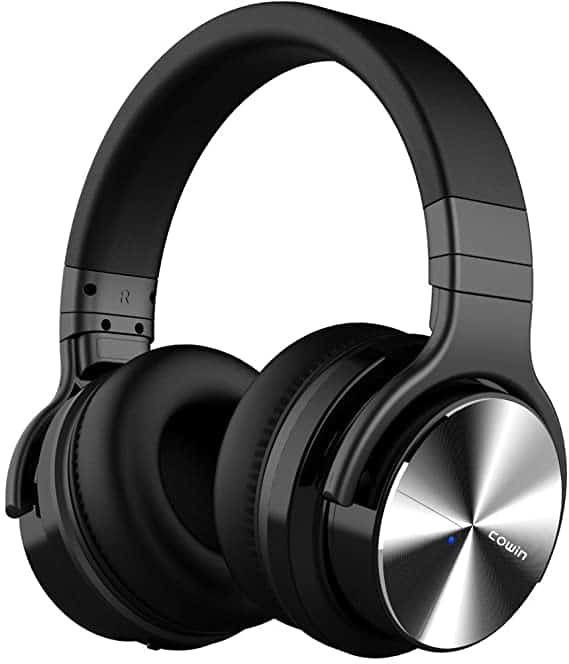 If you prefer over the ear headphones instead of earbuds, these are the ones for you. I own a pair of these as well, in white, and love them. They have great sound and solid bass, with Active Noise Cancelling (ANC) technology to drown out any outside noise. They're also super comfortable and great for jumping rope. I've yet to have a problem with them slipping off my head while jumping.
These headphones check all the boxes!
Durable: Great design with great durability. They have a padded adjustable headband and protein ear cushions for a solid fit. The only thing I knock on these is you'll need to turn Active Noise Cancelling off while jumping rope, due to the nature of the Noise Cancelling technology. That said, this is something you'll see even with higher end headphones like Bose or Beats.
Good Sound: Love the sound with these! Clear vocals, clean bass, and crisp percussion is what you'll get with the E7 Pro.
Stylish: I'd give these a 7/10 on Style. They aren't bad, by any means, especially for the price. They could look better though… I picked them up in white, which I think looks the cleanest.
Affordable: Price! For the quality, comfort, and look you get with these…you can't beat the COWIN E7 on price!
3. Best Earbuds for Jumping Rope (Best Looking)
Apple AirPods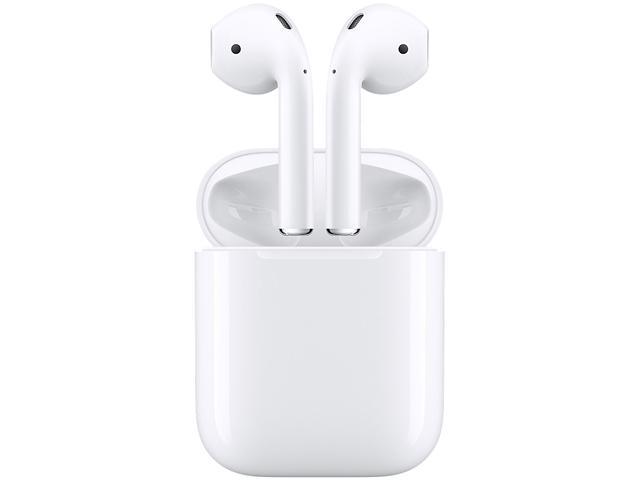 Assuming you haven't been living under a rock these past couple years, you've probably seen the white wireless earbuds everyone's been wearing. Come to find out, the hype isn't over exaggerated. The AirPods, by Apple, are a solid pair of headphones. They've got some unique features which justify the price, and they're great for jumping rope too.
Durable: Just like all apple products, they're designed for durability. While not "waterproof" they're definitely sweat resistant. Great for jumping rope!
Good Sound: The AirPods are built with Apple's H1 headphone chip providing a faster and more stable wireless connection while delivering higher quality sound. The sound these headphones have is definitely top of the line.
Stylish: They don't get much cleaner than this!
Unique Features:
Google Assistant / Siri: "Hey Siri" (or "Okay Google" for Android users) allow the user to ask just about anything via the headphones.
User friendly: Optical sensors and motion accelerometers know when you're listening. Just pop the headphones in and start listening.
4. Best Earbuds for Jumping Rope (Most Comfortable)
Bose SoundSport Wireless Headphones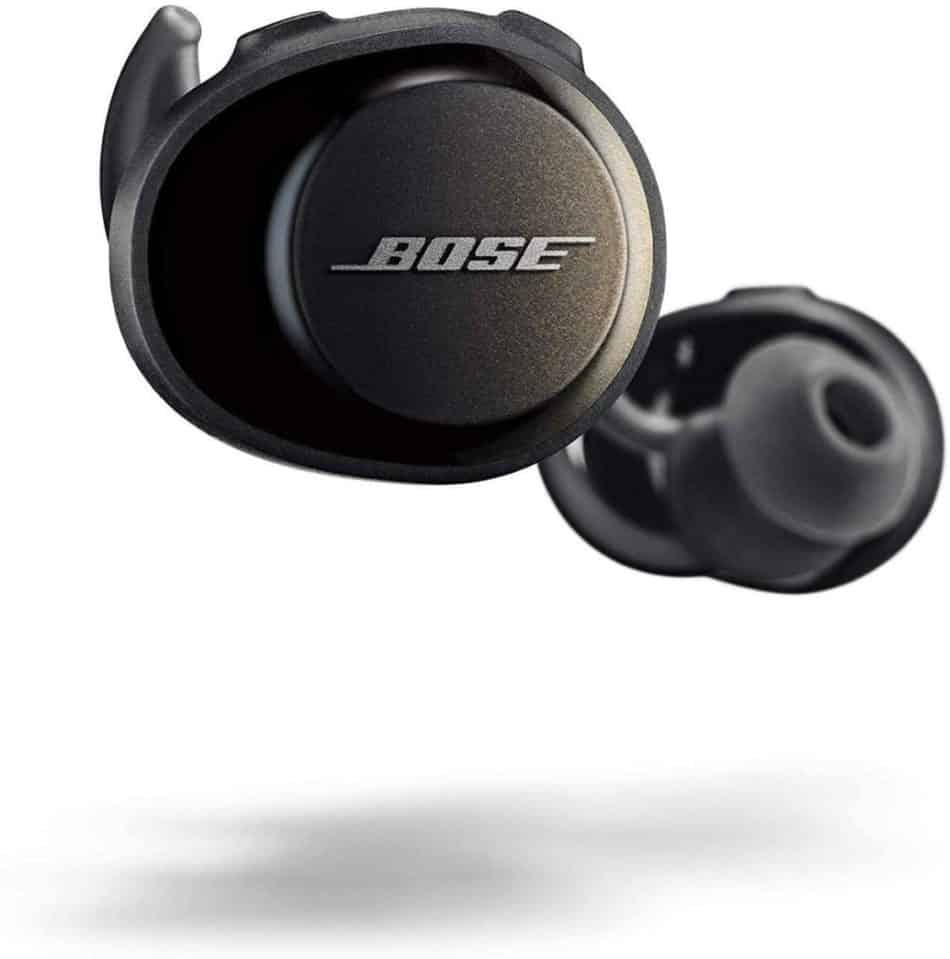 I couldn't decide whether to make these 3rd or 4th on the list. Personally, I prefer these over the AirPods, but they're not quite as popular nor are they rated as highly. These are great headphones for jumping rope though! They also have some unique features which justify the price and they're definitely the most comfortable. Check em out!
Durable: Headphones don't get more solid than this. Bose made these earbuds water resistant making them perfect for an intense jump rope session. And, with their StayHear+ Sport tips comfort and stability is never an issue.
Good Sound: If you know Bose, then you know their speakers deliver amazing sound. Their headphones do the same. With volume-optimized EQ and digital signal processing your music will sound full and balanced while jumping rope.
Stylish: These have a similar look to the earbuds by Sony and come in a few different colors. Not a bad look if you ask me!
Unique Features:
Water resistant: IPX4 rating makes these headphones great for long workouts sauna use, and even training in the rain.
Find My Buds: Worried about losing your headphones? With Bose's Connect app you're able to track where you were last connected ensuring you never lose them again.
5. Best Earbuds for Jumping Rope (Best Sound)
Sony WF-1000XM3 Wireless Earbuds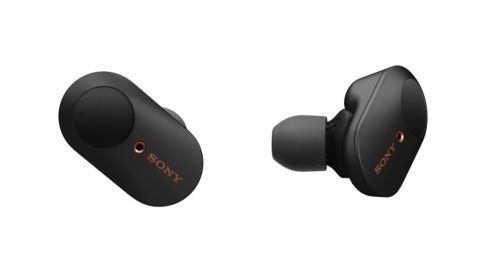 Last on the list is the WF-1000XM3 Wireless Earbuds by Sony. These Earbuds look amazing and come with some pretty cool features, including Sony's proprietary Noise Cancelling technology. They definitely deserve a spot on this list and would be higher if they weren't so expensive. That said, these are easily one of the best headphones for jumping rope.
Durable: Similar to the AirPods and SoundSport headphones, Sony's earbuds are made of the highest quality and will last a lifetime. Additionally, with their high friction rubber surface these earbuds will stay snug in your ear ensuring they don't fall out unexpectedly.
Good Sound: With Sony's powerful 0.24″ driver unit and ergonomic tri-hold structure you're guaranteed to enjoy a rich and immersive listening experience.
Stylish: These are probably the cleanest looking and more elegant of the 5 headphones.
Unique Features:
Leading industry Noise Cancelling: Sony's proprietary HD Noise Canceling Processor QN1e ensures clear and incredible sound regardless of your environment.
Smart Listening: These headphones are built to automatically switch to ambient noise mode based on your activity making sure you hear essential sound when on the go.
Benefits of Listening to Music While Working Out
Over the last 15 years, there's been a considerable amount of research done on the psychological and physiological effect music has on our body while working out. Dr. Costas Karageorghis, one of the leaders in Sports Psychology at Brunel University in London, has conducted numerous studies in this area and found some interesting correlations.
Music decreases your perception of effort during exertion (by about 10%), making your mind feel less tired during a workout.
Music encourages alpha brain wave activity which leads to a 'flow' state, or motivational state, helping athletes push past their perceived limits.
Music helps regulate mood, enhancing feelings of excitement or happiness which can help athletes feel more positive when reaching high levels of exhaustion.
Music improves your body's ability to use energy more efficiently, actually requiring slightly less oxygen during cardiovascular exercise.
It's amazing what a great pair of headphones and solid playlist can do for your workout, isn't it!? With that said, let me share with you some of my favorite songs to jump rope to.
Best Songs to Jump Rope to
Often, I'll find myself preparing for a jump rope workout only to find myself staring at my phone trying to find the "right" song. I'm sure a lot of you can relate. A good song, or the right playlist, can add minutes to your workout and give you that extra push you need to hit personal bests.
Fortunately for you, I've got you covered. Here are my favorite 25 songs to jump rope to!
Julia – SZA
ILYSB – LANY
Sunset – The Midnight
I Love the Dough – The Notorious B.I.G., Jay-Z, Angela Winbush
Nevermind – Dennis Lloyd
Ride – Regard
Trap Paris – Machine Gun Kelly, Quavo, Ty Dolla $ign
Flames – SG Lewis, Ruel
Saint-Tropez – Post Malone
Won't – Darci
So Cold – Mahalo, DLMT
Arty Boy – Flight Facilities, Emma Louise
Got to Have It – Method Man
Don't Let Me Down (Illenium Remix) – The Chainsmokers, Daya, ILLENIUM
My Life – Zhu, Tame Impala
The Weekend (Funk Wav Remix) – SZA, Calvin Harris
Freaky – Tory Lanez
Pizza Guy – Touch Sensitive
Return of the Mack – Mark Morrison
Make Them Wheels Roll – SAFIA
Get After It!