Whether you're learning how to jump rope, looking to burn some fat, or training for your next fight, a jump rope is a crucial piece of equipment. There are a ton of jump ropes on the market too, and not all are created equal. Regardless of what you're training for, here are some of the best jump ropes.
Best Jump Rope for Beginners
Twins Muay Thai Jump Rope
Made in Thailand, this Thai jump rope is easily one of the best jump ropes. Its weight will ensure a great workout with an emphasis on shoulder endurance. Also, with the heavy plastic rope, I've found it to be the best jump rope for learning how to jump rope. This is the jump rope I learned to jump rope with…the additional weight makes it easy to time your jumps and find your rhythm.
One of my favorites for sure, and definitely one of the best jump ropes on the market!
The Highlights:
Well-made, durable jump rope
Heavy plastic rope for new jumpers
Great bearings for a smooth jump
Slightly weighted for strength training, in addition to conditioning
Color Options:
Sizes:
Best Jump Rope for CrossFit
Elite Surge 3.0 Speed Rope
Elite SRS is one of the best brands, and their jump ropes are truly the best. The Elite Surge 3.0 Speed Rope is a light, high-grade, almost weightless, aluminum-handled steel rope. The best thing about this rope is how smooth it is, likely do to their new patented ball bearing system.
This rope is perfect for the serious athletes and anyone doing CrossFit. The lightweight handles and nylon coated cable make it super easy to crush double unders. The Elite Surge 3.0 ranks 2nd on our list of The Best Jump Ropes.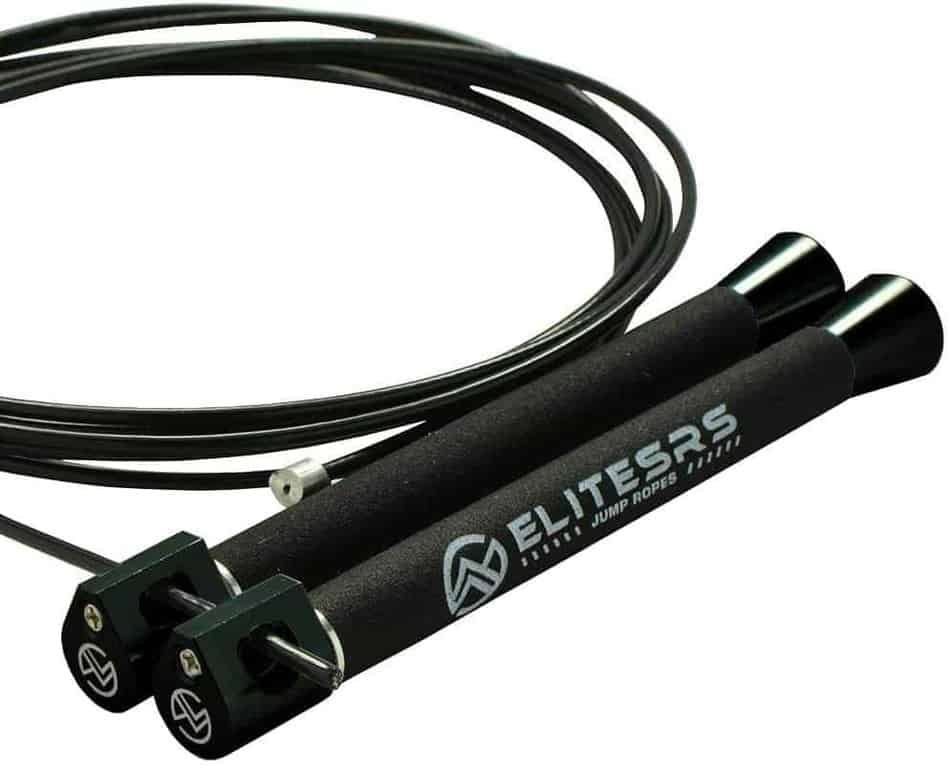 The Highlights:
Multiple colors to choose from
Patented ball bearing system
Light, foam-coated aluminum handles for extra grip
Color Options:
Blue, Black, Copper, Green, Metal, Pink, Purple, and Red
Sizes:
One size (adjustable cable)
Best Jump Rope for Weight Loss
Crossrope's Speed Rope
Crossrope makes a fantastic jump rope, it definitely makes my list of The Best Jump Ropes. The thing that stands out to me most is their unique clip on system, enabling you to swap out cables with ease. It also comes with two different cables (½ lb and ¼ lb). The ¼ lb cable is perfect for conditioning and endurance training. And, the ½ lb cable is great for those looking for an upper body workout or looking to tone.
The Highlights:
Comes with two different cables (½ lb and ¼ lb)
Patented clip on system
Superior ceramic ball bearings
Color Options:
Sizes:
Best Speed Rope
M2 Sonic Boom Speed Rope
The Sonic Boom M2 jump rope is easily one of the best speed ropes, and it's pretty affordable too. This jump rope is of the highest-quality, its functional, and it just plain looks cool. The biggest selling point for me on this rope though, is the no screw auto-locking feature allowing you to adjust the rope without loosening/tightening screws. The M2 Sonic Boom is 4th on our list of The Best Jump Ropes.
The Highlights:
360° ball bearings for complete rotation capabilities
Non-slip silicone coated grip
Easily adjustable design with self-locking system
No rust stainless steel metal
Color Options:
Sizes:
Best Jump Rope for Boxing
Honor Athletics Speed Rope, also known as the "Flash Rope", is easily the best jump rope for boxing. It's also my all around favorite jump rope. The plastic handles are easily adjustable and lightweight. It makes performing cross overs and double unders extremely easy. And the rope, which is made of thick vinyl PVC cord, is perfect for jumping indoors or outdoors. It's super durable.
If you're looking for a solid and inexpensive jump rope, this is your go-to!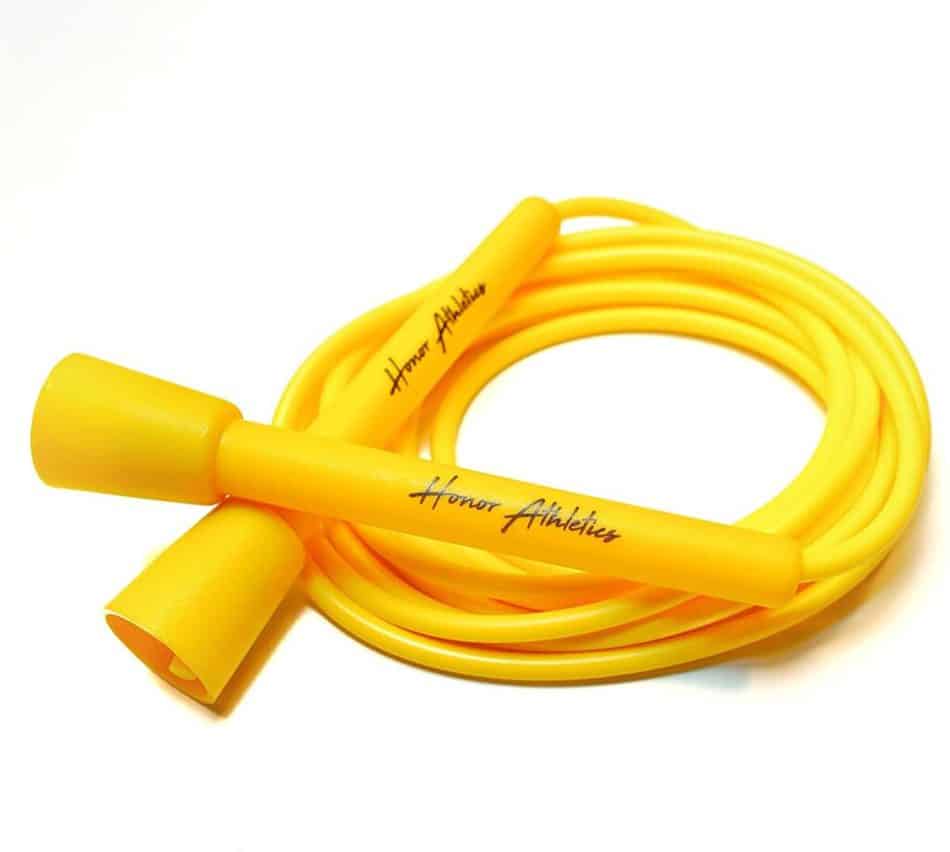 The Highlights:
Easily adjustable rope, for any height
Lightweight handle for superior control
Thick vinyl PVC rope, for added durability
Color Options:
Black, Neon Green, Neon Orange, White, Black/White, and Yellow
Sizes:
What to Look for When Buying a Jump Rope?
If you're new to jumping rope, once you start browsing the huge selection of jump ropes online you'll likely find yourself asking, "what am I looking for?". "What makes a good jump rope?". The truth is it depends on your skill level, and what you're looking to do with it. I would use a completely different jump rope for a cross-fit workout than I would if I was learning how to jump rope.
There are many ways to utilize a jump rope, and not every jump rope makes the most sense. Here are the 4 core uses for jump ropes, and the best jump rope for the job:
If You're Learning How to Jump Rope
There are a few factors that come into play when searching for the best jump rope for beginners. I would say the two big ones are weight and length.
It's important to pick a rope that isn't too light, which can make it difficult to time the rope resulting in a lot of failed attempts. I suggest a rope that is slightly weighted allowing you to feel rope as it rotates around your body. This makes it much easier to time the rope and find your rhythm.
Once you get a good swing and cadence, try a lighter rope.
In addition to the weight, for beginners I suggest a rope that's slightly longer than one you might use for more advanced jumping. Generally, the proper length is found by stepping in the center of the rope and pulling the handles straight up. For someone who has been jumping for a while, that handles should reach your armpits. For beginners, the best jump rope should reach your shoulders.
For Speed, Agility, and Cross-Fit Training
When it comes to training for speed and agility, often common with Cross-Fit or HIIT workouts, I typically suggest a speed rope. For those of you unfamiliar with what a speed rope is. It's a specific kind of jump rope with lightweight handles and typically a wire or PVC cable, which allows for fast rotation and little stress on your arms, shoulders, etc.
There are a few factors that are important to consider when looking for the best speed ropes. The 3 big ones for me are weight, 90-degree angled handle, and length.
Typically, when jumping for speed, your arms are going to tire before your legs which is why you'll want to opt for a lighter rope/handle. Additionally, a light weight rope or cable is key to allow for quick rotations which are paramount to speed rope variations such as double unders.
The 90-degree angled handle is important because it allows for the best rotation, the most efficient rotation, while eliminating any resistance you might find with a regular jump rope. If speed is your target, you'll want to minimize any friction and the maximize your efficiency.
The length is a crucial factor for choosing the best speed rope. It's pretty straightforward, the less clearance you have between your head and the rope, the faster you'll be able to get a full rotation.
For more experienced jumpers, when stepping in the middle of the rope the handles should reach no higher than your armpit. For an even tighter rotation, adjust the cord so the handles only reach your nipples. Start with your armpit though as you can always take off more length.
Here's a more in depth guide on how to size your jump rope properly.
For Building Muscle and Weight Loss
I've mentioned this before, and I'll say it again. One favorite jump rope, especially when training for strength, in addition to cardio, is TWIN's Muay Thai jump rope. It's not too heavy, allowing you to jump for extended periods of time, but just heavy enough to deliver a solid shoulder and back workout.
Either way, a weighted or heavy jump rope is going to be your best bet when looking to build muscle or tone. There are a few factors you'll want to consider when determining which is the best jump rope. The first is weight, the second is the handle, and third is the material.
The weight is more of a subjective decision. It really comes down to how experienced you are and how heavy of a rope you're able to properly handle. I tend to like to jump for a good 20 minutes, which is why I opt for an only slightly weighted rope. That said, there are some pretty heavy ropes out there and you're guaranteed to get a good upper body burn. Just make sure to choose the right weight!
Second to the weight, is the handle. There are a few reasons why you want to choose the right handle when jumping with a weighted jump rope. The most important thing you'll want to consider is whether the weight is in the handles, our distributed throughout the rope. I personally prefer ropes that have at least some of the weight in the rope itself. Many heavy jump ropes put majority of the weight in the handle which can affect your rhythm.
Also, I've found weighted handles can reduce the strength or muscle required for the workout due to the fact your hands aren't moving much.
Lastly, the material your heavy rope is made from can either make your routine a fun one or frustrate the heck out of you. Some heavy ropes are made from a braided rope-like material. I tend to avoid these at all costs. They're awkward and thick, which can make it difficult to find a good rhythm or get a decent rotation. I suggest going for either a plastic rope, or coated wire rope.
All of that said, the only way you can figure what's best for you is by picking up a rope and giving it a shot!
For Freestyle Jumping, Boxing, MMA, etc.
For those of you who aren't familiar with freestyle jump rope, it's the art of flowing seamlessly through different moves or tricks (high knees, to crossovers, to double unders, etc.). This is probably one my favorite uses, most enjoyable, and a beast of a workout.
There are a couple factors to think about when choosing the best jump rope. The handle, and the material.
For freestyle jumping, due to the nature of transitioning between various moves, you'll want to select a rope that has a longer handle. For me, I typically suggest around an 6-inch handle which allows you to shift from one move to the next, with ease. It's also important to choose a lightweight handle, plastic is usually preferred.
Additionally, the material your freestyle rope is made from is important. I tend to opt for a PVC rope which makes it easy to jump outdoors, or on harsh surfaces like concrete. You can also go with a coated cable rope. Again, it comes down to what feels best for you.
Let's get after it!