There are a variety of jump rope apps available for download, but not all of them are created equal. Additionally, most of the apps are native applications exclusive to one device or the other (Android and iOS).
Given there's a pretty even split between Android and iPhone users, I put together a list of my favorites jump rope apps on each device. I also cover some of the benefits from using an app to track your jump rope workouts.
Best Jump Rope Apps of 2021 (Android)
1. Jumpro Jump (by Marco Sinacore)
This is my favorite app. It's pretty basic and doesn't have a lot of bells and whistles, but it works great. Very clean user interface, easy to use, the calibration is spot on, and no ads. It's great for logging your jump rope sessions. Tracks jumps, calories burned, and it even syncs with a Bluetooth heart rate monitor to track your cardio. Another cool feature is this app has the ability to stream to your TV via Chromecast, enabling you to track your workout in real time.
You do have to sign up when you download the app, making you create a profile before you can start using it. You'll also need to verify your email address, which is annoying. It only takes a minute or two though. Once you're signed up, you're good to go.
Check it out on the Google Play store, here
Pros:
Simple, easy to use interface
Pairs with Bluetooth heart rate monitor
Chromcast compatible
Accurate calibration
No ads!
Free
Cons:
Bare bones app, not a lot of additional features
Have to signup and verify email address
2. The Jump Rope Tricktionary (by Dylan Plummer)
This jump rope app is a unique one. The creator has compiled a catalog of 150+ different jump rope tricks, with a video for each one. It also allows you to keep track of the tricks you've completed, and upload videos of yourself completing those tricks. Another cool feature on this app is the speed timer. The Tricktionary speed timer allows you to track other jumpers by manually counting their jumps.
Honestly, the only thing I don't like about this app is there's no way to track your own workouts. Really solid app though, I definitely recommend downloading it!
Check it out on the Google Play store, here
Pros:
150+ jump rope tricks, with videos
Speed timer
No ads!
Free
Cons:
No way to track your workouts
3. 2.5K Jump Rope Workout (by Power Ups)
This application is great for beginners. The initial goal is to get to 2500 jumps. Upon opening the app, there is a stamina test. Jumping until you're tired, the app will create a baseline for you. Then, help you set goals and track your journey to get to 2500 jumps.
The cool thing about this app, is it puts together customized workouts for you and allows you to set reminders for those workouts. Additionally, by logging in, you're able to compete with other users and see how you stack up against the competition on their leader-board.
The only thing that bothers me about this app is the calibration. I've used this app numerous times, and it never seems to calculate my jumps very accurately. By now, they may have come out with an update. Either way, definitely an app worth checking out.
Check it out on the Google Play store, here
Pros:
Customized workouts and goal setting
Workout reminders
Limited ads
Free
Cons:
Consider Picking Up a Weighted Jump Rope
If you're looking to burn more calories, experience greater muscle engagement, and get an overall better workout, you might consider picking up a weighted jump rope.
The Muay Thai Jump Rope, from EliteSRS, is the weighted rope I use.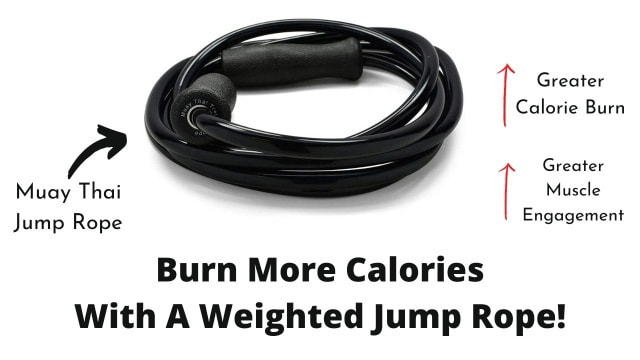 Best Jump Rope Apps of 2021 (iPhone)
Let me start by saying I'm not an iPhone user. So, for the sake of trying out these different applications I used my sisters' phone. Not sure if it makes a huge difference, but her phone is a bit dated. I also found that Apple's App Store doesn't provide the best search functionality.
All of that said, I found some great apps and have used all of them personally. Here are some of the better ones I came across.
1. Jump Rope Workout (by Underlogic)
Jump Rope Workout by Underlogic is a great choice for a basic jump rope tracker. The calibration is super accurate when tracking your jumps and calories. It's very easy to use, has limited ads, and allows you to input your weight in both kilograms and pounds. Additionally, you can use the application to track other jumpers by manually counting their jumps.
Beyond that, the functionality is pretty limited, but a good app nonetheless.
Pros:
Simple, easy to use interface
Accurate calibration
Limited ads
Free
Cons:
Bare bones app, no additional features
2. Jump Rope Master (by Keason Chen)
Jump Rope Master for the iPhone is one of the better jump rope applications. What I like most is how easy it is to use. Upon opening the app, you're presented with your stats for the week, allowing you to drill down into the stats for a particular day. Or, if you're about to begin a workout, all you need to do is press start and start jumping. Its easy!
My only hang-up on this app is the calibration seems to be a bit off. It might be a problem with my sisters' phone, which is all banged up. It's also a pretty basic app, there are no cool features or tutorial videos. It seems to be a good app though, worth a try.
Pros:
Simple, easy to use interface
Limited Ads
Free
Cons:
Bare bones app, no additional features
Questionable calibration
3. JustJump (by Eyebrows Unite, LLC.)
This app is great for learning new tricks or jumps. They've compiled nearly 200 different "skills", or unique jumps, tips for learning how to do them, and videos to show you how. Additionally, the app has more than 25 unique workouts adding variety to your routine.
Unfortunately, a big portion of the content isn't available unless you pay for the upgraded version ($3.99). This app also doesn't have the ability to track your own workouts. Definitely a solid app though!
Pros:
Great content!
Lots of videos, with helpful tips
Simple, easy to use interface
Cons:
Requires you to pay for some of the content
No way to track your workouts
Track Your Calories Without an App
If you're like me, chances are you won't be using a jump rope app every time you jump rope. That said, keeping track of how many calories you're burning can be hugely beneficial. Especially if you're looking to lose weight.
For those of you interested in tracking the calories you're burning, check out our Jump Rope Calories Calculator. No need to download an app. Just plug in your weight, time spent jumping, and intensity…and voila!
Bookmark it within your browser, so you can refer back to it every time you finish a workout.
You might also consider getting yourself a Fitbit, or similar smart accessory, to track your workouts. I picked up the Fitbit Inspire HR a while back and I love it. It also monitors my sleep which is really cool to track.
The Benefits of Using a Jump Rope App
1. Compete with yourself
One of the biggest reasons why I enjoy using a jump rope app, at least occasionally, is the ability it gives me to compete with myself. Most jump rope applications track your calories, jumps, and some even monitor your heart rate. I like tracking these metrics so I can go back and break my personal bests. I'm a super competitive person. Competing with yourself produces results, every time.
2. See your progress
Fitness apps and wearables have become so popular, and for good reason. For me, nothing fuels my drive to be fit and healthy more than progress itself. By using a jump rope app, you're able to track your workouts and monitor your progress over time. Even if your growth is small, and incremental, you'll notice it. And, with most of the jump rope apps out there you're able to visualize your progress through graphs and timelines, making it easy to understand.
3. Keep yourself accountable
Accountability is super important when trying to build a consistent workout routine. Fortunately, jumping rope is a convenient exercise making it somewhat easier, but the consistency can still be a challenge. Especially within the first few weeks of building that new routine. A jump rope app is a great way to hold yourself accountable. Some of the apps even allow you to set reminders so you never miss a workout.
4. Set goals
There has always been a direct correlation between setting goals and making progress, both in my personal and professional life. Working out is no different. Set goals, see results. Jump rope apps, and fitness apps in general, make it easy to set specific, measurable goals. If you're looking for some help in putting together a list of goals, I'd suggest referring to ACE's (American Council on Exercise) SMART Goal Setting Guide:
Specific: Is the goal defined, and specific?
Measurable: How am I going to measure this goal?
Attainable: Is this goal realistic?
Relevant: Is this goal one I genuinely care about?
Time-bound: When do I need to complete this goal by?
5. Engage
Honestly, I don't use my jump rope app very often. Primarily due to the fact that it can be a hassle when jumping rope every day. That said, I've found when I do use them, I tend to look forward to my workout more. "How many calories can I burn this time?". "How many double under can I get in a minute?" I'm engaged. It's especially effective if I'm having trouble getting into a routine.