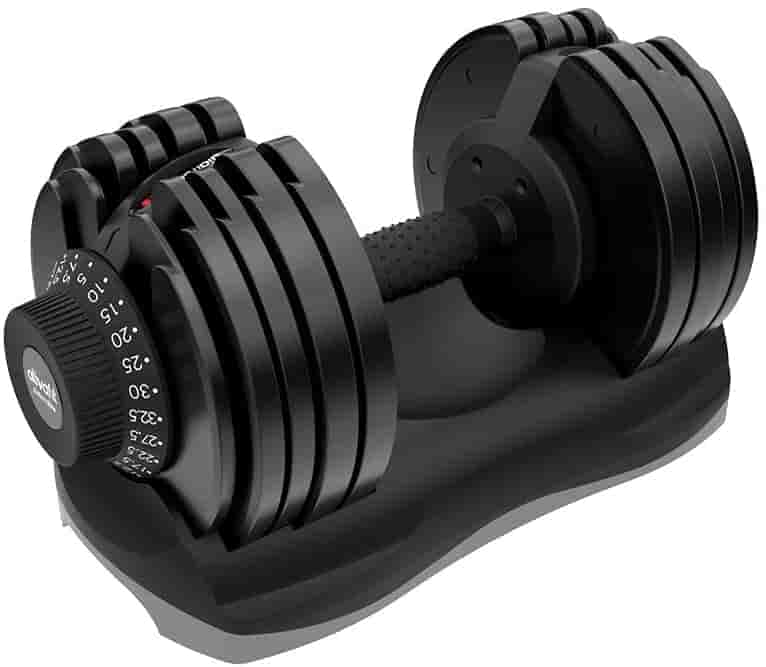 Aside from a jump rope, dumbbells are probably the most important addition to your home gym. You can literally hit every muscle group, and hit them in a variety of really dynamic ways.
The best adjustable dumbbells are the Adjustable Dumbbells by ATIVAFIT. These dumbbells combine 17 sets of weights into a single dumbbell. Starting at 5kg, you can adjust the weight up to 32.5 kg, in 2.5 kg increments (11 lbs – 71.5 lbs). With a rubber grip handle, these dumbbells are incredibly comfortable. Save space and money with these bad boys!
These are the second set of adjustable dumbbells I've owned. I previously had a pair of Bowflex dumbbells, which were a similar price but only went up to about 50 lbs.
When making the switch from Bowflex to ATIVAFIT, I did some pretty extensive research. I was primarily focused on two things, the weight range and the price.
Weight range – how high do the dumbbells go?
For me, the higher the dumbbells can adjust up to, the better. There are various exercises (goblet squats, for example) where I'm looking to use a single dumbbell, but need it to be heavy (70+ lbs).
The main reason for me getting rid of my Bowflex dumbbells was they only went up to about 50 lbs. That just wasn't high enough for them to make sense, long-term.
The nice thing about the AVITAFIT Adjustable Dumbbells is they go up to 71.5 lbs, which is perfect!
What's also cool about these dumbbells is they adjust in increments of 5.5lbs (2.5 kg), which make it easy to get very specific with the weight for each exercise.
Price – needs to be a reasonable
While dumbbells are generally pretty expensive, I didn't want to break the bank in buying some new ones, especially because I already owned a pair.
The nice thing about adjustable dumbbells, you're actually getting a lot more for your money than if you bought individual dumbbells.
Typically, dumbbells cost about $1 per pound. So, you can see how quickly it can add up if you're buying a set of 10s, a set of 25s, set of 50s, etc., etc…
After looking at probably 15 different options, I ultimately settled on the dumbbells by AVITAFIT. Aside from one or two others, they were the only dumbbells that could adjust to 70+ lbs (Merax, another solid choice, was runner up). They also seemed to have great reviews, across the board.
Am very happy with these guys!