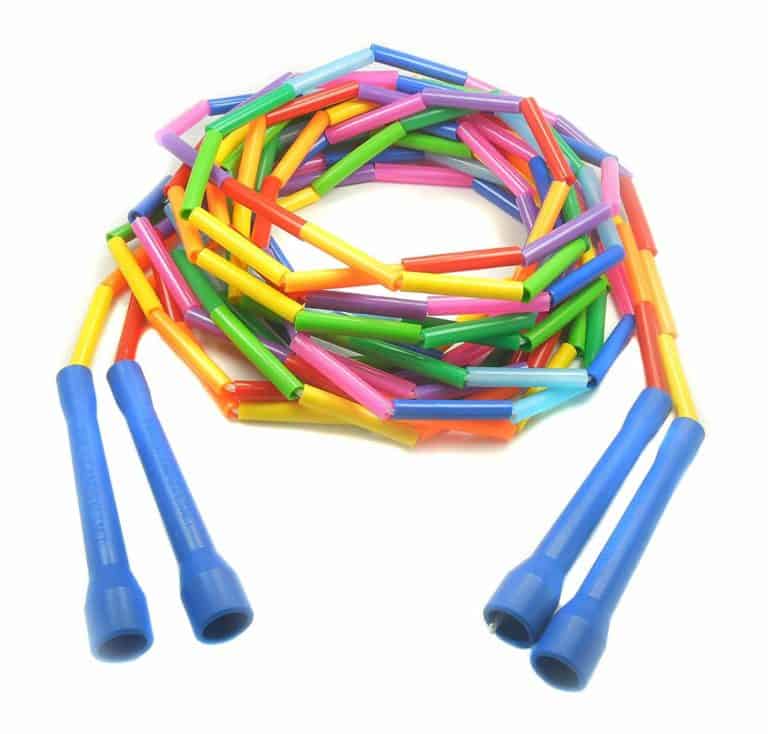 Double Dutch is a great way to get the kids out of the house and get them active. If you're a parent, I highly suggest picking up one of these.
If you're unfamiliar with Double Dutch, here is an article with more information on how it's played. And, you might also check out our article on the Best Jump Rope Games for some ideas for your kids.
The best Double Dutch jump rope is the Beaded Double Dutch Jump Rope by BuyJumpRopes. This rope has durable plastic handles, a nylon braided cord with shatterproof beads, and is long enough for 3-4 jumpers at one time. It comes in 7 different colors.
These jump ropes make for great gifts as well. I've personally bought these as presents for kids of my friends and family.
Highly recommend!
When looking for a solid Double Dutch jump rope, it's wise to consider a couple things. For me, I looked specifically at the quality and the price.
Quality, needs to be made-well
The first thing I consider when purchasing a jump rope that's to be used by a child is the quality. How durable is it? How long will it last?
BuyJumpRopes did a really great job with this jump rope. One of the things I love about them is they're based here in the U.S., actually here in Washington.
The rope is made from a durable plastic and uses shatterproof beads for the rope. Underneath the beads is a nylon braided cord which will hold up for years to come. They also include two ropes in case you need a back-up or want to skip two ropes at once!
The ropes come in 7 different colors:
Black/White/Turquoise
Frozen
Pink/Purple
Rainbow
Red/White
Red/White/Blue
Silver/Black
Price – how does it compare to other Double Dutch jump ropes?
I've scoured the internet in search of the best jump ropes, and I always look at the price when making my decision.
The nice thing about all of BuyJumpRope's products is they are very competitively priced. For this product specifically, there isn't a better option out there. Given the quality, especially, you can't beat the price for these Double Dutch jump ropes!
Love it!