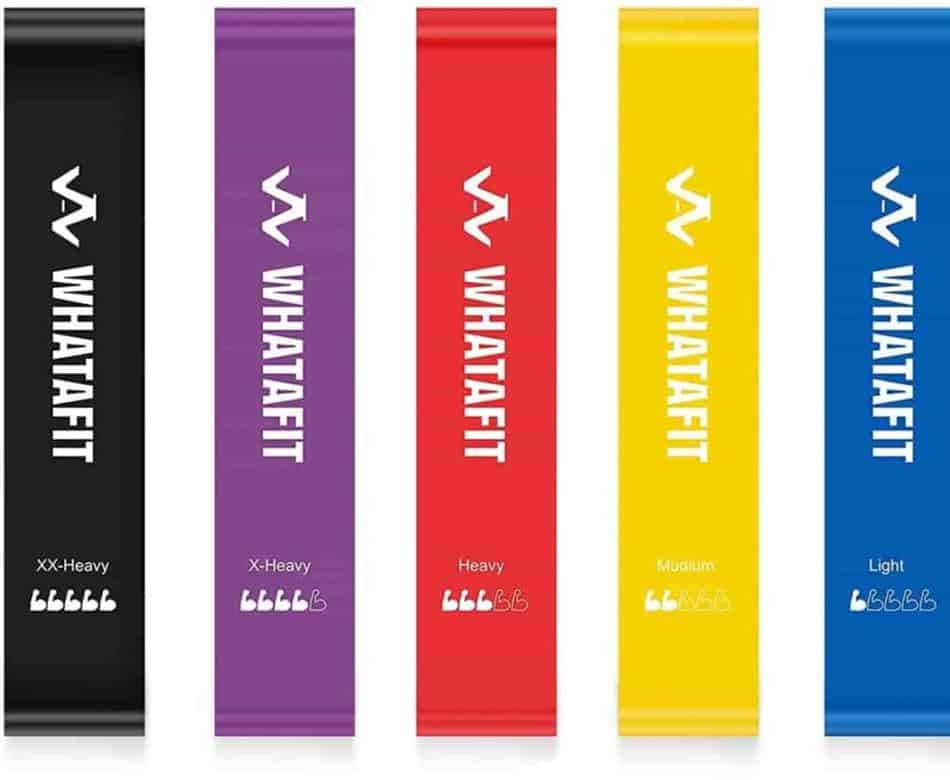 Resistance bands are a great addition to any home gym. They fit easily in a gym bag, provide endless workout variations, and they're an inexpensive item.
The best resistance bands are the Resistance Bands Set by Whatafit. The set comes with 5 adjustable bands, each 3 feet in length. There's a 10 lb, 20 lb, 30 lb, 40 lb, and 50 lb band. The bands, made from natural latex, are durable and waterproof. The set comes with a door anchor, handles, and a carrying bag.
While it's not hard to find a good set of resistance bands, these are definitely one of the more popular brands. I use them virtually everyday and I love them.
When deciding which resistance bands to purchase, I was really looking for three things… quality material, price, and ones that came with some accessories.
Well-made, ideally from natural latex
The material the resistance bands are made from was the most important thing I considered when purchasing my set. I really wanted to find bands made from a natural latex, ones that would last a long-time and provide good elasticity.
These bands do exactly that!
I'm super happy with the bands themselves, and the handles and door anchor were clearly made well also. The reviews were spot on, on Amazon. High-quality, easy to use, and durable.
Decent price, ideally under $30
The second thing I was looking at, before ultimately purchasing these, was the price.
While most resistance bands are fairly inexpensive, there were a few, more expensive outliers I considered. I also found a number of bands that were cheaper. I decided to go with these primarily due to the great reviews and feedback from their previous customers.
The difference in cost between these and the slightly less expensive bands was only $5 – $7 dollars, a pretty minor difference. Might as well get bands that you know are made well and will last a long time…
Accessories (door anchor, handles, carrying bag, etc.)
The last thing that I considered when purchasing my bands was what other items, or accessories, they bands came with.
What I liked about the Whatafit Resistance Bands set was they came with everything I needed to get the most out of my resistance band workouts. A door anchor, a comfortable set of handles, ankle straps, and a carrying bag.
Since purchasing these, I've put together some really outstanding workouts that hit nearly every muscle group. I couldn't be happier with my purchase!