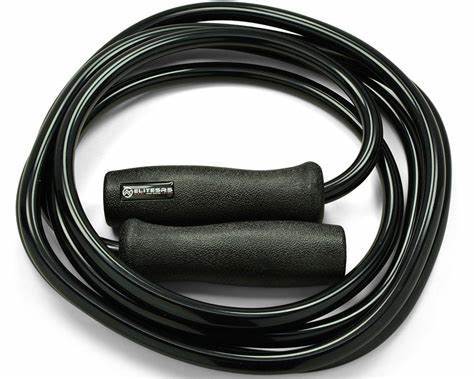 I'm obviously a huge fan of jumping rope, it's something I've done forever and will continue to do in the future. I do like to switch it up though, alternating between a speed rope and a heavy or weighted jump rope.
The best Weighted Jump Rope is the Muay Thai Jump Rope by EliteSRS. The rope is made from a thick plastic and weights 1.3 lbs. It has thick plastic handles and uses ball bearings to rotate the rope. It comes in 3 different sizes (8ft, 9ft, and 10ft).
This is the same rope I learned how to jump rope with. It's legit!
I've only used a couple different heavy ropes in my lifetime, but there's really no need for me to pick up another one. This is, by far, one of my favorite jump ropes.
Whether you go with this one, or another heavy rope, there are really only two things I would consider when making your decision. The quality vs price, and the design.
Quality vs. Price
The first thing you should look into when purchasing a weighted jump rope is the quality of the rope itself, and the material it's made from, versus the price of the rope.
I'd honestly have a tough time paying more than $30 for a rope, weighted or not…
That said, you want to make sure what you're getting is good quality. I try to stay away from heavy ropes made from actual rope material. They seem to wear a lot quicker and don't usually make for a very smooth jumping experience.
I'd go with a rope made from heavy plastic.
In regards to the price, if you're paying anything over $30 dollars you might as well invest in the Weighted Jump Rope Set by Crossrope. That said, if you're on a budget I'd stay away from anything above that price point.
The design, specifically the rope's rotation system
The only thing I'd pay attention to, in regard to the jump rope's design, is the system it uses to rotate the rope (how the rope is connected to the handles).
There are a variety of different ways a rope connects to the handles. That connection will greatly effect how smooth the rope will rotate, and, depending on the connection, can cause the rope to tangle or get twisted.
The best connection for a weighted jump rope is through the use of ball bearings.
If you you're considering a rope that uses a different method of connecting to the handles, make sure to thoroughly read the reviews. Last thing you want is your rope to get tangled every 30 seconds.
The Muay Thai Jump Rope by EliteSRS uses dual ball bearings and is incredibly smooth.