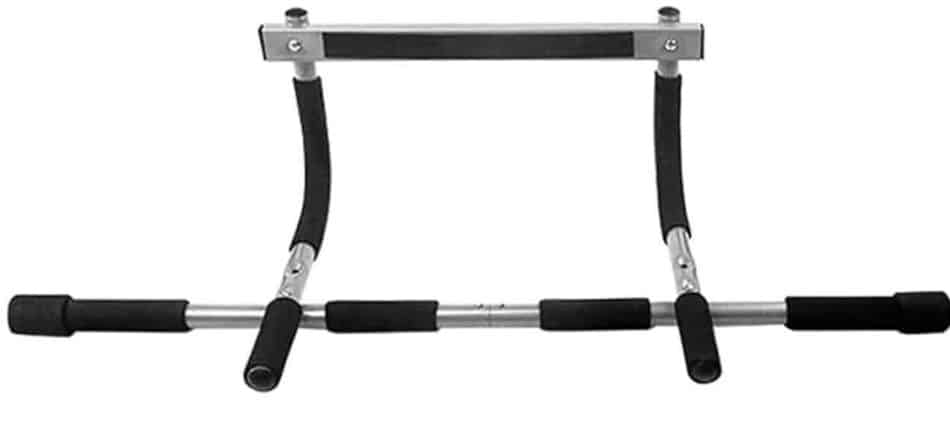 This is probably one of my favorite home workout inventions ever! I'm a huge fan of pull-ups as they can do wonders for your overall physique and aesthetic. That said, some of these can be a huge hassle to assemble.
The best doorway pull up bar is the Pull Up Bar by SIEBIRD. The frame is made from heavy duty, professional-grade steel and can hold up to 300 lbs. The handles are comfortable, covered in a non-slip foam, and allow for 3 different grips (normal grip, closed grip, and hammer pull-ups). Additionally, the pull up bar is extremely easy to assemble (only took me 5 minutes).
I've actually had a couple different pull-up bars in the past, so this wasn't my first time shopping for one. However, this is definitely my favorite pull-up bar I've had.
When deciding which one to go with, I looked at 3 things. The quality and design, the price, and assembly time.
Quality material and design
Believe it or not, there are some really cheap pull-up bars that are actually more expensive than this one. This is the third pull-up bar I've owned, the second one I bought fell apart on me in less than a couple months.
I wasn't interested in going through that again, so I took some time to do my research and compared a dozen or so different pull-up bars, before pulling the trigger on this one.
The SIEBIRD Doorway Pull Up Bar is made from a heavy duty, professional-grade steel that can hold up to 300 lbs! The bar is designed for a variety of different sized doorways (24″ up to 32″). And, the handles are coated in a non-slip foam which provide a comfortable grip.
I was really impressed with the quality, especially for the price point!
Price, not looking to spend more than $40
I know, that probably sounds cheap of me, no more than $40?? The truth is, my coworker bought a similar pull-up bar and I know he spent less than that.
Knowing that, I was determined to find a good pull-up bar for under $40.
As I mentioned above, this isn't the first time I've bought a pull-up bar. I probably spent close to $100 between the two previous bars, neither of them were nearly as sturdy or easy to put together either.
Don't break the bank for this item, you're better off saving a few extra dollars and putting it towards some Adjustable Dumbbells or a solid Foldable Weight Bench.
Assembly… not looking to spend an entire Saturday putting this thing together
To be honest, this should probably be the first thing to consider when purchasing a doorway pull-up bar.
I've had some pretty frustrating experiences assembling pull-up bars in the past. I vowed I wouldn't make that mistake this time around. I made sure to read through the reviews and see what other people had to say, specifically about the setup.
Fortunately, as many people said in the reviews, it didn't take me more than 5 minutes to assemble. I was stoked about that!
Saturdays are for the boys… not for assembling your POS pull-up bar!