Are you looking for a good jump rope to work on your double unders? Look no further, I got you. I'm going to give you my recommendation and share with you the rope I use. And, for the sake of being thorough, I will also include a few other great jump ropes for performing double unders.
This list has been updated as of August, 2020. All the jump ropes listed here are the best options as of this Summer.
You'll also find, later in the article, what a double under is (for those of you that don't know), some reasons why you should practice them, and some tips for getting started.
I'm definitely no professional, but I have been jumping rope for quite some time, probably close to 8 years. I have gone through a ton of different ropes, different brands, styles, colors, you name it. I'm here to tell you, hands down, the Elite Surge 3.0 is one of my favorite ropes, and the best jump rope for double unders.
The Best Jump Rope for Double Unders
Elite Surge 3.0 Speed Rope
The Elite Surge 3.0 (link to Amazon) is honestly one of my favorite jump ropes, and not just for double unders. It's a great rope for any jumper, regardless of how much experience you have. It's easy to use, extremely durable, and very stylish.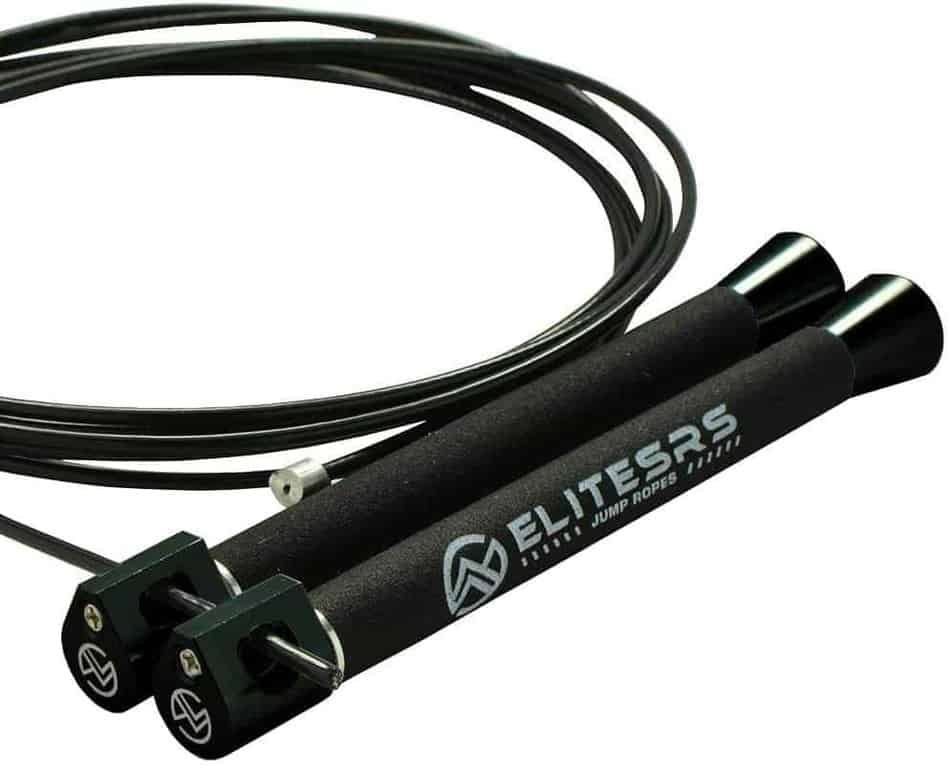 It's Easy
In my opinion, there are two main reasons why the Elite Surge 3.0 is one of the easiest jump ropes to use, and the best jump rope for double unders. First, it's so smooth! Elite SRS actually patented the technology used to rotate the cable (ball bearing system). The cable always stays at the end of the handles preventing any torque from building up in the cable. And, second, it's extremely fast! The cable is kink resistant and boasts a speed of 7 revolutions per second! It's crazy fast!.
Durable
This jump rope is legit, seriously! The Elite Surge 3.0 was clearly designed and built with quality as the number one priority. The handles are made from aluminum and have the best grip of any rope I've used (foam-coated). The handles are honestly a big reason why it's the best jump rope for double unders. That, and the cable. The coated cable is fast, efficient, and extremely durable (nylon-coated). It's able to handle jumping on any surface. This jump rope will last you a very long time.
Stylish
The Elite Surge 3.0 has a sleek design as well as a few updates from the 2.0. What I really like about it though, is the handle. It's super lightweight and the handles are coated with foam, making it easy to grip and giving you total control. It also comes in a variety of unique colors (Black, Blue, Copper, Green, Metal, Pink, Purple, and Red). Style points for sure.
The Highlights:
Precision machined aluminum handles
Patented ball bearing system
Foam-coated handles
Fast and efficient nylon-coated cable
Color Options:
Black
Blue
Copper
Green
Metal
Pink
Purple
Red
What Comes With the Jump Rope?
10 Foot coated cable
Allen wrench
Extra screw
Felt draw string bag
So, you've got my recommendation for the best jump rope for double unders. It's not much help though, if you don't know what a double under is or how to properly perform one.
What is a Double Under?
Once you've mastered the single jump, chances are you'll be looking to find ways to incorporate more challenging jumps or tricks into your routine. A great one to start with is the double under. For those of you who aren't familiar with what a double under is, it's when you jump once, and rotate the rope around your body twice.
Sounds simple enough, right? The truth is, this technique requires a high level of intensity and can be difficult to master. They're worth learning though. The double under is guaranteed to get your heart pumping quickly, it's a fun challenge, and it's a beast of a workout.
Double unders first appeared on the jump rope scene in 2001. It was originally just used for training and conditioning but has since grown into much more than that. There are competitions all over the world, and it's even in the Guinness Book of World Records. People are constantly coming up with different strategies to beat the current record, which I believe is 164 within one minute.
To get even a fraction of that requires a lot of practice though!
How To Do a Double Under
If you've never attempted a double under, let me tell you, it's challenging. So much that you should master the basic single jump first (Our step-by-step guide to learn how to jump rope). If you're past that, and ready to go, I got you!
In this guide you will learn what to look for when selecting the right jump rope, some dos and don'ts, and some tips for getting started. Take a minute to review the guide below.
What Makes a Good Jump Rope for Double Unders?
When it comes to double unders you definitely want the right jump rope. Speed ropes are best for this type of activity. There are a handful of things you'll want to consider when looking for the right speed rope.
1. Functionality
2. Durability
3. Weight
4. Price
Functionality
The most important thing to consider when looking for the right speed rope is how it functions. Is it smooth? Easy to use? Efficient? These are all questions you'll want to get answered before making your purchase. The rope should rotate smoothly, without any torque build up in the cable. It needs to be fast, and efficient. Make sure to read the specs thoroughly, and read some reviews, before spending any money.
Durability
How durable you want the rope to be depends on the surface you'll be jumping on. There are certain cables better for concrete, and other cables you'll only want to use on a mat, or indoors. If you're going to be jumping outside you will want to go with a coated cable, or PVC cord. Those typically hold up the best.
Weight
The weight of your rope is going to dictate how you use it. For double unders, you'll want the cable and handles to be pretty light. "Speed ropes", which are lightweight and usually have a thinner cord, are going to be best for these. A weighted rope, although it can be done, is a lot harder to successfully complete double unders with. Again, make sure to check the specs.
Price
For most of us, myself included, price is an unavoidable consideration for anything we're thinking about buying. Fortunately, jump ropes are relatively cheap. That said, they can vary quite a bit in cost. You want a good balance between quality and price. I've never spent more than $60 on a jump rope.
5 Tips for Doing a Double Under
When it comes to double unders there are several common mistakes people make. Whether you're a beginner or an intermediate jumper you can always improve your game by getting back to the basics. Take a minute to review the tips below, chances are it will help improve your technique on your next set.
1. Make sure the jump rope is the right length
This is a common mistake. Most people size their rope either too short, or too long. The length of your rope will make a huge difference in how efficient you'll be when jumping double unders.
My suggestion, when sizing your rope or cable, is to step your foot in the center of the jump rope pulling each side up towards your body. For beginners, the cable should stop at your armpits. For more advanced jumpers, the cable should stop at your nipples. Be sure that you size your rope properly before you start!
Here is an in depth, illustrated guide to help you size your jump rope.
2. Jump as efficiently as possible
When it comes to double unders, less is more. Big, wide rotations are going to kill any momentum you have and make it challenging to make that second rotation.
You should have your elbows tight at your side. Additionally, the more you can use your wrists to spin the rope, as opposed to your arms, the more efficient you'll be.
3. Don't jump too high
Many beginners feel the higher they jump, the better chance they will have at successfully completing a double under. Remember, less is more. In this case, small controlled jumps will give you more control over the rope and allow you to focus on quick rotations.
The other issue with jumping too high is it's hard to find your rhythm, and chances are if your cardio is weak you'll gas out pretty quick.
4. Use proper form
Form and technique are crucial to every athletic activity, and it's definitely not a corner you want to cut when practicing double unders.
Rep good form in the beginning to avoid having to drop bad habits and relearn the proper way to do it. Knees slightly bent, elbows in, shoulders back, on the balls of your feet…calm, focused, and efficient.
5. Remember to breathe!
When it comes to practicing double unders it can feel like there's a lot to focus on, especially if you're new. It can be tricky to think about keeping your jumps small and controlled, keeping your elbows in, your knees bent, etc., etc., while also paying attention to your breathing.
It will likely take a lot of practice. That said, if you're able to find some rhythm in your breath, it will be easier to find a rhythm in your jumps.
Some Do's and Don'ts for Doing a Double Under
Don't:
Jump too high off the ground
Flair your elbows
Lock out your knees
Hold your breath
Use a rope that's too short or too long
Overcompensate with your arms
Move sporadically
Do:
Jump only a few inches off the ground at most
Keep your elbows in
Bend your knees slightly
Ensure your breathing is calm and controlled
Size your rope properly
Use your wrists, not your arms
Move in a consistent, controlled manner
Other Great Jump Ropes for Double Unders
As mentioned previously in this article, my favorite jump rope for practicing double unders is the Elite Surge 3.0. That said, there are a variety of good speed ropes on the market, all of which are great at performing double unders. I'd be doing you a disservice if I didn't mention some of the other good speed ropes as well.
Honor Athletics Speed Rope
The jump rope by Honor Athletics, also known as the "Flash Rope", is a solid speed rope. One of the unique things about this rope are the handles. They are extremely lightweight and allow you to re-size the cable in seconds.
The quality paired with the price (see current price on Amazon) makes this rope #2 on our list of the best jump ropes for double unders.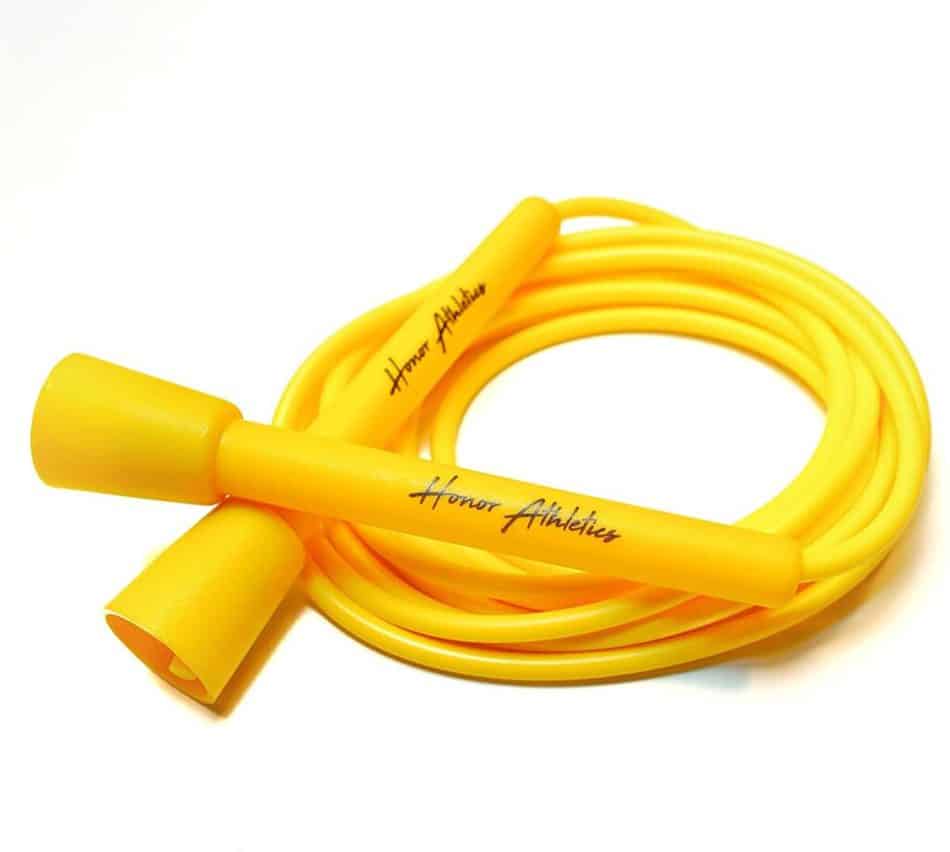 The Highlights:
Long, lightweight handles
Adjustable cable
5mm think PVC coated cable
Color Options:
Black
Neon Green
Neon Orange
White
White / Black
Yellow
Sonic Boom M2 Speed Rope
The Sonic Boom M2 jump rope is a great speed rope. It's durable, functional, and has a sleek design. The biggest selling point for me on this rope is the no screw auto-locking system enabling you to adjust the rope without dealing with screws. The silicone grips are also a nice touch. One of the best grips outside the Session 3.0 (see current price on Amazon).
The Highlights:
No screw auto-locking function
Silicone grips
360-degree spin ball bearings
Color Options:
Crossrope's Speed Rope
Crossrope did a nice job with their speed rope. The thing I like most is their unique clip on system, allowing you to change out cables easily. It also comes with two different cables (½ lb and ¼ lb).
The ¼ lb cable is great for performing double unders and tricks. And, the ½ lb cable is great for beginners or those looking for more of an upper body workout.
If it wasn't so expensive, it would easily be higher up on the list, but given the price I'm giving it #4 on our list of best jump ropes for double unders (see current price on Amazon).
The Highlights:
Comes with two different cables (½ lb and ¼ lb)
Patented clip on system
Superior ceramic ball bearings
Color Options:
The Bullet Rope
This one is also by EliteSRS, the same people who made the Elite Surge 3.0. There are some neat features on this one. It's a great rope for double unders, and, given it's one size fits all, the perfect rope for those sharing a jump rope.
With their self-adjusting chuck system, you're able to adjust the length of the cable in only a few seconds. Additionally, it comes with two different types of cables. A Thick to Thin cable (4mm), which is super durable and makes for one hell of a workout. And, their nylon coated cable (3/32") which is great for speed jumping and double unders (see current price on Amazon).
The Highlights:
Self-adjusting chuck system
Dual steel ball bearings
2 cables (speed + strength)
Color Options:
HUMMER Speed Rope
The HUMMER speed rope by Bear KompleX is another solid jump rope for double unders. It's fairly similar to The Bullet Rope, in that it's one size fits all. A big selling point for sure. It also comes in two color combinations, both of which are pretty stylish.
You can get this speed rope in either black and green (black ice) or blue and red (speed blue). Last, but not least, it's affordable! For the quality, I'm surprised by how inexpensive it is. (see current price on Amazon)
The Highlights:
Knurled aluminum handles
Extra backup cable
Color Options:
WOD Nation's Speed Rope
WOD Nation, a pretty dope brand by the way, makes a solid speed rope. I'd say, compared to the others, it's fairly basic. There aren't a lot of "bells and whistles", it's just a legit speed rope. Nylon resin handles with a 2.5mm coated steel cable. It does come in a variety of colors, which I like, and it's super affordable. (see current price on Amazon)
The Highlights:
Extra backup cable
Variety of colors
Color Options:
Black
Blue
Grey
Green
Orange
Pink
Purple
Red
Yellow
That's it family! Let's get after it!